How to Save Money on Stripchat
Stripchat is an adult website where models put on live performances for viewers. These tips on how to save money on Stripchat can help you get more value from the platform. Although free live cams let you watch and chat with models, there are paid options as well. These premium services require tokens to use the model's tip menus, toys, and special shows.
Whether you're new or experienced with webcam platforms, Stripchat certainly has what you are seeking. You will have no trouble finding suitable candidates to meet with many live performers. And there are the most pleasing girls, couples, and guys cams for all interests.
But if you like what you see and want certain things, you will need tokens. The fun part is that you can customize the live shows to your particular desires. Furthermore, you can watch performers in both traditional and virtual reality formats. And the most popular use for tokens is tipping, interactive toys, or private shows.
Although you need tokens, the platform discounts them and offers regular giveaways. There are many ways you can save money on Stripchat, from learning about pro secrets to the basics. We'll cover everything you need to know about the chat service to increase your funds.
Our first way to save money is by taking advantage of the hourly giveaways. When you sign-up as a registered user, you can enter for the chance to win free tokens. Go to the "Participate in Giveaway" button in the chat room or see the main page. The amount up for grabs is 50 tokens, which can get used at the winner's discretion.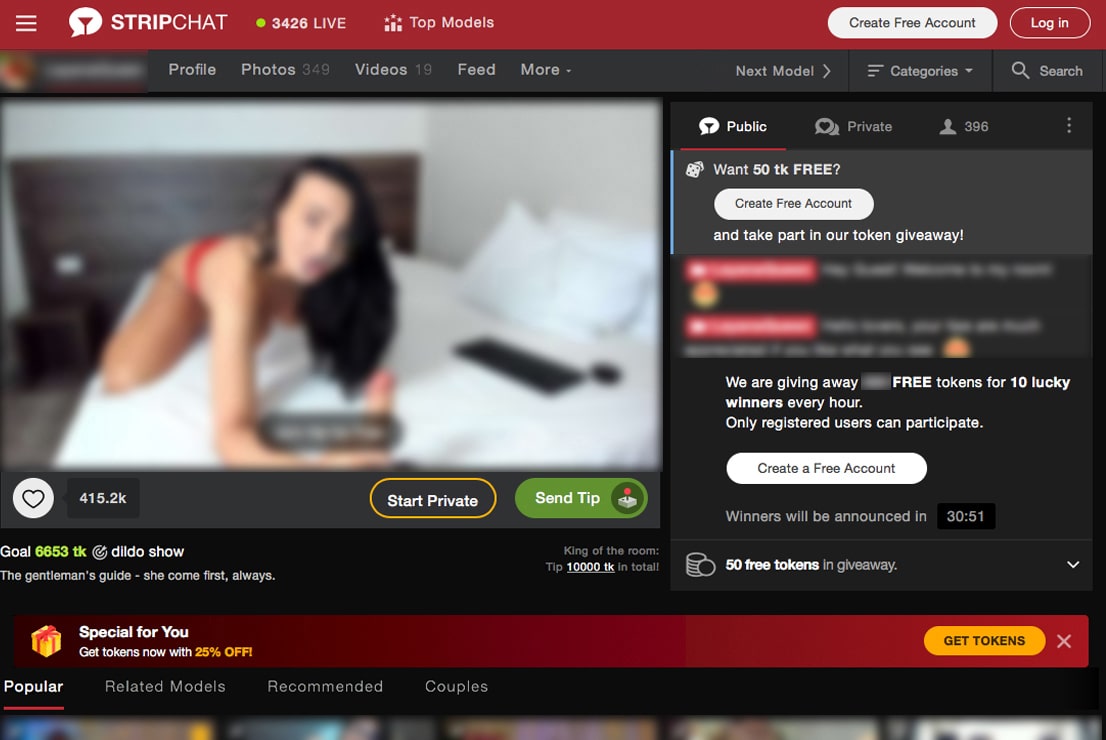 And if you do win, you will receive a confirmation email to let you know how to claim the prize. You have a 10-minutes time frame to redeem your tokens. The good thing here is that you can always try again if you didn't win the first time.
As a new member, Stripchat welcomes you by giving you a 25% discount on your first purchase. This offer is programmed to pop up from time to time. So, if you happen to come across it on the site, you should hop on it and take the opportunity. 
For the existing members, you can still save money on your tokens. You can get discounts on packages on Stripchat. For instance, if it requires 540 tokens to buy a $49.99 package, you will get a 20% token discount. The higher you decide to go with your purchase, the more significant bonus. 
A great way to save money at Stripchat is by choosing Spy Shows. Do you know how spies enjoy the privilege of having access to essential things without others knowing? Well, on Stripchat, you can become a spy too. Stripchat offers you the opportunity to spy on a private room and enjoy them either free or at a lower amount. 
For example, if you have a model that you want to see, but such is in a private room, you have nothing much to worry about. You can spy on them and enjoy the content. However, this free content is only available for the first 10 seconds. After this, you begin to pay for the content you are enjoying. 
After your initial free 10 seconds, you pay as little as four tokens every minute. You are getting a good deal compared to a full-cost private show.
You will be able to access the spy shows under the private shows section on your left. Once accessed, you have varieties of performances that you can enter. And there are over 140 spy shows on Stripchat that let you be an unnoticed observer.  
One last thing to know with Stripchat spy show is that you will not interact with the performers no matter how long you stay. Remember, you are still a spy. 
The ticket shows are a popular choice for those on a budget that want the fun of a private show but don't want to pay per minute. These live performances cost a fixed price, meaning you pay a one-off amount before they begin.
They are a cheaper alternative with numerous ticket shows and prices from around 8 to 200 tokens. And because you only pay once for the entire show duration, you don't have to worry about overspending. Also, performers usually plan these events to make them worth it. 
And if this sounds appealing, the way you enter these one-off experiences is by looking out for the "Ticket Group Show" button. Additionally, if your favorite performer ticket show has started, you can still have an opportunity to enter. 
The private shows are private sessions that connect you and a model in your live stream. Thus you can enjoy direct communication with the person camming without the distractions of other viewers. However, the cost for this private time with a model of your choice gets billed per minute in tokens.  
A way to save money on Stripchat private shows is by comparing prices. Since models decide on their charge, you can always find a great deal. The average amount is 16 tokens that most performers bill. However, you can save money by choosing models from 8tk, which is half the price for similar entertainment. 
To save money on Stripchat, you should follow the recommended tips. In addition, it allows you to experiment with many things you have always wanted to try out. For instance, the platform has many incentives to reward customers with brand loyalty. 
With Stripchat, there are countless ways you can benefit and save money in the process. As a result, you will have more resources at your disposal to interact with the webcam models.
The platform provides one of the most significant live cam experiences. With excellent value activities and low cost shows its great value. The real-time webcams mean you can connect with models from around the world for live video chat 24/7.