Jerkmate is a leading live sex cam site that connects users with attractive performers worldwide. As the slogan implies, the Jerkmate platform is a place never to jerk off alone, and it certainly does this well. It offers the perfect place to masturbate with strangers online.
Considering their ads are all over the tube sites right now, we are here to explain what is Jerkmate.
The Jerkmate innovative experience has grown exponentially due to fulfilling the most basic human need. It has simplified the process of providing adult chat for interactive masturbation. When it launched in 2019, it quickly got awarded one of the best cam-to-cam sites.
When you first visit Jerkmate.com, it is truly unique, and there isn't anything like this. Within seconds of loading up your screen, like-minded horny individuals are available. Choosing webcam models has never been easier and more accurate than this. 
The next thing you will notice on the platform is a series of questions you will have to answer. 
Think of Jerkmate as your matchmaker for finding webcam models. Answer initial questions to configure the search process. These can be answered in seconds and include gender, ethnicity, hair color, and cup size.
Once you have answered the questions, the results can be surprisingly accurate, and within seconds you'll have matches. It works much like popular dating apps where you skip between profiles. Stop on a webcam model that grabs your attention, but there are plenty of gorgeous beauties to be discovered.
How does it work?
Jerkmate relies on clever technology that connects your needs with webcam models' profiles. They fill in details about the way they look and their attributes, and the system then pairs you together. It's quite a simple yet effective matching-making service for adult affairs online.
The website works by offering random chat with attractive webcam models, and the rest is self-explanatory. Its seamless service delivers visually pleasing performers that you can speak, interact with and get instant sexual gratification.
On Jerkmate, experienced users will recognize similarities with a well-known service called Streamate. Your senses are correct. What Jerkmate has done has integrated with this award-winning platform.
To start using Jerkmate, you will need to create a free account to speak with the webcam models. It's effortless and only requires an email address to proceed. Once you've signed up, you'll have access to your account and the ability to speak directly with models that appear on the webcam.
What can you do on Jerkmate?
Jerkmate lets you meet, speak and interact with desirable, attractive people online. This random chat for adult entertainment is genuinely one of a kind. But what you can do on Jerkmate is speak with random people online looking to get off.
You can strike up a conversation in a non-judgmental environment in a fun, exciting ways. Everyone that has come to the website has arrived for a similar result, so the feelings are mutual from the word go.
A warm and welcoming smile will greet you with entering a webcam performer's room. But behind the innocent looks tends to be a partner waiting to show you a much more raunchy side.
The ways that you can communicate on Jerkmate is mainly through using the chat window or cam2cam. It's entirely down to the user and makes you feel comfortable speaking directly with a stranger online.
Below is a video that perfectly explains what is Jerkmate in great detail, and we highly recommend watching it.
Jerkmate costs?
Genuinely speaking, Jerkmate costs are down to the user that visits the website. There is a free account available that lets you unlock most features. But of course, to run the service, there are fees associated.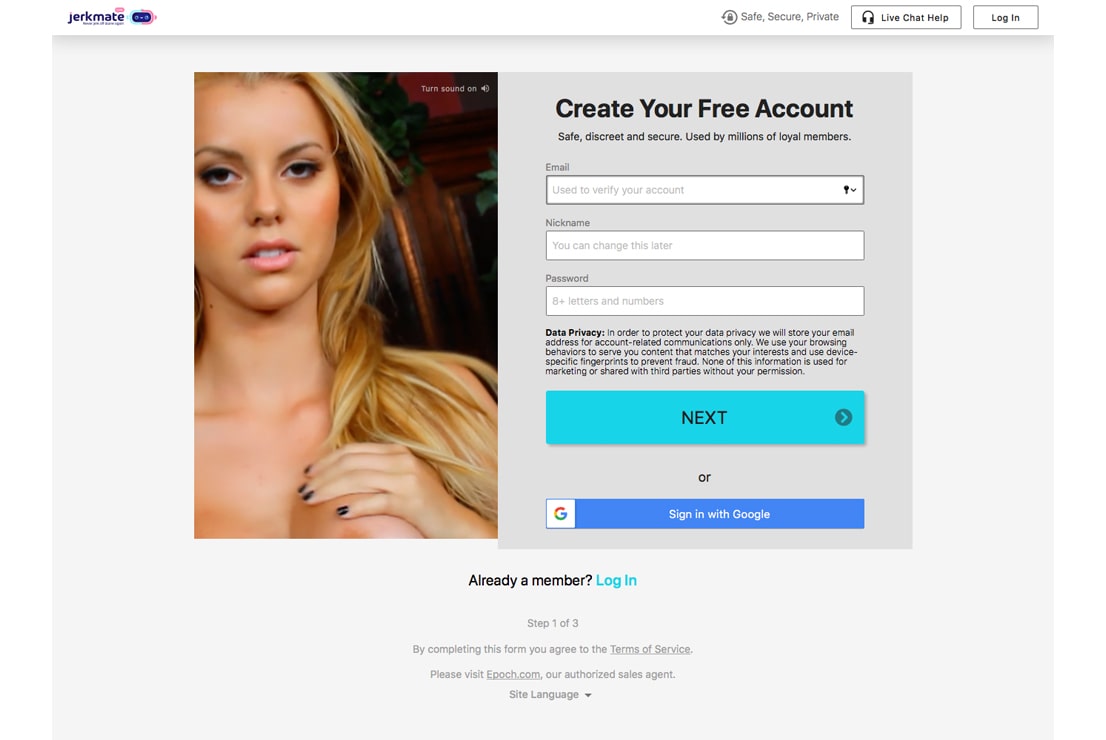 Webcam models in private chats and tips will charge for their services. Once you find someone interesting, you may want to tip them or enter a private session.
To enable the feature of a private show on Jerkmate, you will need to make a purchase. The virtual currency used is called Jerkmate gold. It is used for tipping performers and allocating time in private shows.
It certainly pays to play on any service offering adult chat from experience. If you're serious about getting the most out of your time, it can be beneficial.
With the Jerkmate prices starting from as little as a few dollars, it's appealing to most budgets. 
Conclusion 
Our conclusion of explaining what is Jerkmate has led us down an exciting path. We have always been curious about this relatively new company and idea. Its modern approach to adult cams is a game-changer.  
If you're looking to improve self-pleasure with a random partner, it provides outstanding services. It caters to every need and desire that most users may require.
A feature that immediately grabbed our attention was the more granular search. Using the side menu, you can narrow in on a more targeted option. 
Overall we highly recommend the service for anyone looking for a partner to pleasure. It will open your eyes to a new revolutionary way to masturbate online.
Additionally if you seek more options then see the guide Jerkmate alternatives .