For webcam sites, Imlive prices for credits are excellent value. The brand was launched two decades ago in 2003, making it one of the oldest chat sites on the web. And yet, it has still managed to grow its fan base over the years by keeping up with the times.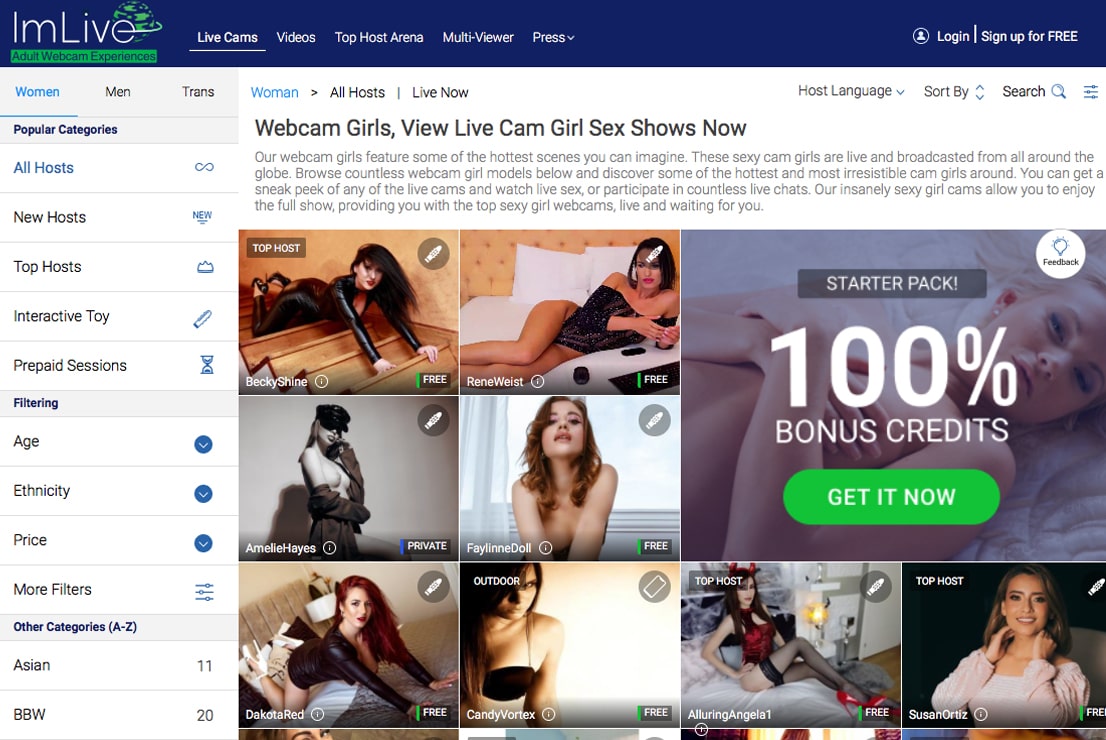 Imlive has over 80,000 registered webcam models on its platform that perform acts for audiences in various categories. Furthermore, it gets consistently rated as an awarding winning platform for its popular cam shows.
Again like other adult cam websites, the site lets you signup for a free account on Imlive. As a result, new members can create a username and access the dedicated area. And here, you will have an overview of what's happening on the platform, including the number of live hosts.
The platform allows you to view live shows for free and chat with webcam models. But if you want anything desired, you will need to buy some credits. And when you purchase them, the shows get much more enjoyable. Here's an overview of Imlive prices. 
Imlive Prices
The price for credits on Imlive comes in four different credit packages. And you can get started from just 25 credits or decide to opt for a higher-priced plan of 100 credits. But the value of one credit is worth $1. Additionally, you get offered bonus credits called extras when you purchase a package amount. 
The credits get used for adult webcam experiences on the platform or to exchange services with hosts. For instance, the price for private chat charges customers on a credit-per-minute basis. 
In addition, when a member makes a first-time purchase of credits, they get rewarded. You will access the model's photos and videos as part of the deal. Unlike content subscription services that charge monthly, the Imlive hosts include this free. 
Imlive prices for credits depend on your currency, but we have given the latest amount in dollars below. Also, when you choose PumaPay, you can get up to 15% extra in credits.
Imlive Credit System   
The premium features on Imlive are accessible using the credit system. Using credits, you can interact with performers by sending them gifts, controlling toys, or entering a private chat. And the great thing about using this online currency is that you keep your banking details separate.
Imlive credit system allows you to pay for services with performers. The users can control the amount they are spending on the platform by managing their accounts. When it comes to seeing your balance, you will always see it displayed next to your username. Also, Imlive has a section called balance & activity where the log of purchases gets kept. 
You can easily top-up your account using the right-hand corner called 'Get Credits.' Then a window will present you with the current prices for the different credit packages. 
Paid Services 
With the current Imlive prices information, you can proceed to the paid services. And there are lots of chat features that offer you a variety of different options. The members can pay to vibe a host's vibrator, send a virtual gift in increments or use 1-on-1 live chat services. 
Having credits on Imlive is beneficial and can change the user experience entirely. Another helpful feature of the platform is that you can find models in your price range. You can filter from shows at 0.98 credits, and it goes up to as high as 5.80 credits per minute.
Private chat prices on Imlive are affordable, with most performers charging 1.98 credits for their time. Thus private options are low-cost, from only $2 per minute. Also, the side menu lets you compare prices and the number of hosts per amount. 
Then there are 'Candy Shows,' which are group chats with fixed time slots and entry prices. Therefore the show begins for the price of a single ticket that you need to purchase before the live event starts. The show is surprisingly cheap, with previews of the upcoming performance.
Payment Options 
There are a variety of different payment options for purchasing credits on Imlive. And because it has a global audience, it accepts all major payment providers. You can choose a payment method from Card, PayPal, Paysafecard, and PumaPay. However, the credit prices can change depending on the option you choose. 
SegPay processes the credit/debit card payment methods on Imlive. The company is a secure online payment processing company. But the benefit of using this option is that the details are kept discreet from any bank information. For instance, the name IML SLU will appear on your statement to keep your affairs private. 
However, if you prefer other forms of payments, you can choose PayPal. Using this option means you need to sign in to your account via your phone or email address. Finally, you have the well-known option of Paysafecard, or for a defi payment solution, there is Pumapay. 
Reward Program
The Imlive rewards program provides customers with a loyalty system every time they purchase credits. When you buy credits for the first time, you become a bronze member. As a result, you get better prices, discounts, and access to special features such as discount club reductions.
You have the below membership options:
New

Bronze

Silver

Gold

VIP
All memberships are 'free,' but you need multiple credit purchases to upgrade from new status. 
Bronze membership allows you to access some beneficial perks that instantly improve your experience as a user. You can then get a 20% discount club reduction from past live shows. Also, you get to view the full galleries of all hosts and watch free videos.
Support
If you have any questions regarding the Imlive prices for credits, you can always contact the customer support department. Also found above the logout button, the customer support section contains helpful resources. Here you can find frequently asked questions and the most common topics. 
Customer support can assist you with credits and purchases to technical issues. Typically you can get a response almost immediately, or if you have sent an email, you will wait no longer than a working day for an answer. 
Although transactions and charges get handled by third parties, customer support can assist you regarding billing. Lastly, you can submit a credit repayment with the price paid if you want a refund.