How To Cam2Cam On Streamate
If you're attempting to discover how to Cam2Cam on Streamate, look no further than this current article. It is a fantastic platform for any individual wanting to get more intimate with a performer of their choosing. And Streamate provides a user-friendly cam2cam interface on both PC and mobile devices.
Setting up the Streamate Cam2Cam is reasonably straightforward. Therefore it might be worth taking a little time to figure everything out if you've never explored this feature. So, read on if you want to have your fantasy cam-to-cam experience unravel before your eyes in no time.
How to use Streamate Cam2Cam on your computer  
After searching for Streamate on your web browser and finding yourself on the website, note that the Cam2Cam experience is only available in private chat. So, begin a private show of your choosing and click on the camera button next to the chat window. You can discover this at the bottom of the screen. When you've done this, your video will appear within a preview window in the screen's center. As a result, enabling you to get your camera in a suitable position.
Once you want to start the c2c on Streamate, you click the 'Request' button and wait for the model's response. The model will decide to either accept or decline your request for them to view your cam. If they take your request, your video will appear in a window in the corner, while the model can see it on their screen too. When the show ends, you can stop the video and drop a rating, comment, and even a tip if you'd like to.
How to use Streamate Cam2Cam on your Mobile
Using Cam2Cam on your mobile is similar to working it on a PC, although you will be using an iOS or Android operating system on this device. Once on the platform in your mobile's browser, go into a model's room. Then you'll find that the screen will be split between the model's video and the chat controls, with the private buttons and tipping in the center.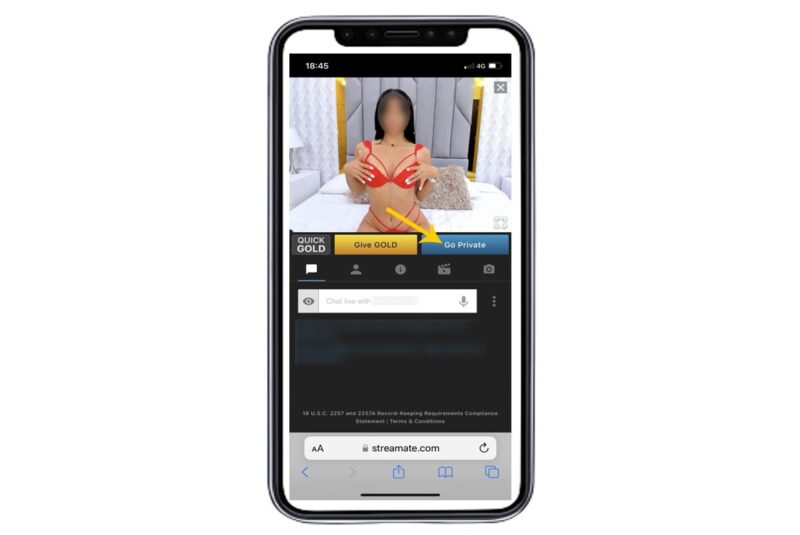 Streamate's overall Cam2Cam function is the same on mobile as on PC. If you're having a few difficulties accessing your microphone or camera, solving this depends on what you can see when you click the c2c button. If you can see your video appear, but it disappears within around fifteen seconds of clicking the button, your model either denied your Cam2Cam request or missed it. In the future, prevent this by asking the model if they will accept your request to Cam2Cam before you send it.
Streamate Cam2Cam Price Per Minute 
How much your Cam2Cam experience will cost all depends on the individual model. For instance, in exclusive and private chats, prices usually range between $0.99 and $8.99. However, knowing the difference between exclusive and private shows is crucial. Private shows on Streamate embrace multiple viewers. Thus, one or more individuals will be paying the price per minute. In one-to-one private experiences, viewers can choose exclusive chats, which means it is just one individual and the model.
Since only single individuals can participate in an exclusive chat, you can expect the price per minute to be substantially higher than a shared private show. Exclusive chats are usually the most expensive shows on the Streamate platform. However, since there are a few different chat types to pick from, there is bound to be something that fits most people's budget needs to access an intimate, fun experience.
So, there you have it. After scanning the information above, you should now understand how to Cam2Cam on Streamate on mobile phones and computers. Taking part in this experience is pretty straightforward and recommended for any online user wanting to delve deep into their secret and most passionate desires.
By opening a private show and requesting a Cam2Cam from the model in question, it's never been easier to start enjoying these kinds of shows efficiently and with zero hassle. As a final tip, ensure that your device's browser is up to date and that the platform has all the necessary permissions to function. If you've followed these steps correctly, you should be ready to start enjoying this well-known website today.