Chaturbate vs Stripchat: which is better? 
Chaturbate and Stripchat are two leading webcam platforms in the field of freemium sites. We explain the ins and outs of these services and what makes them different. And to finalize this comparison, we give an overall verdict of which outperforms the other.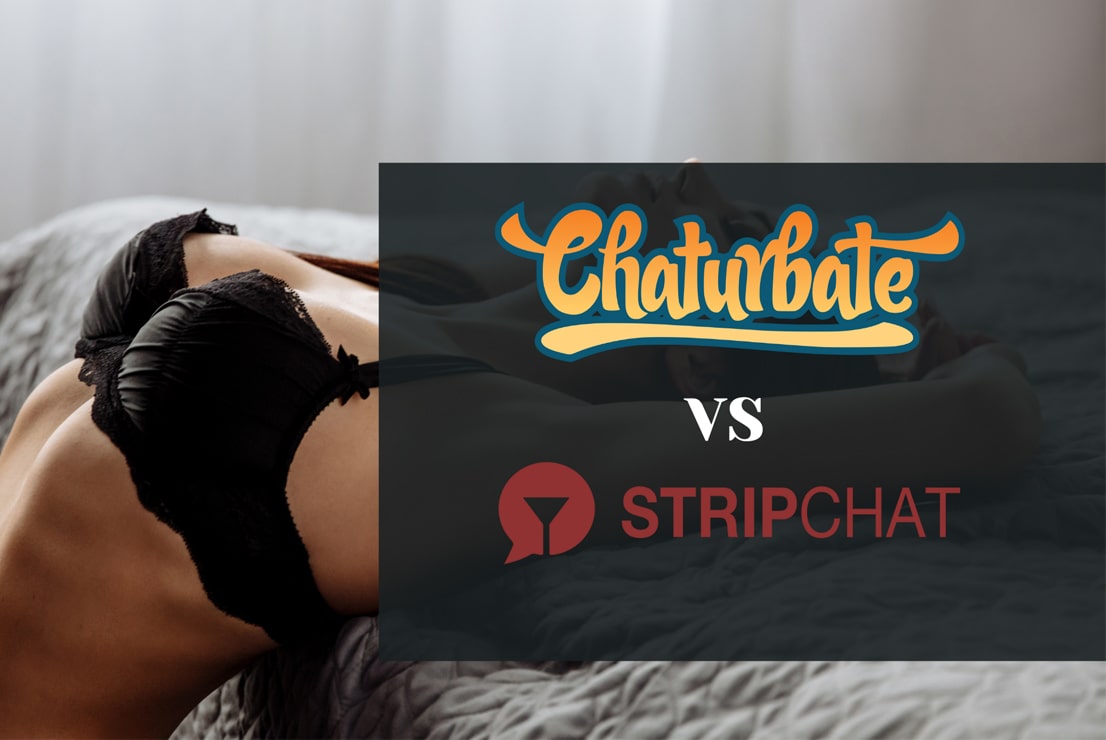 However, both Chaturbate and Stripchat are recognizable names. Each service allows you to watch all genders performing on cam. Additionally, you can register free on either platform by using your email account to participate.  
Of course, if you want something extra, like interaction or private shows, you need to pay. 
But should you go for Chaturbate vs Stripchat? And where do you get good features and the best value for money? Let's find out!
Here is a quick summary of how the two websites compare. You can then see an overview of what's available on each platform.
| | Chaturbate | Stripchat |
| --- | --- | --- |
| Rating | 4.6 | 4.9 |
| Models | 3,000+ | 4,000+ |
| Free Account | Yes | Yes |
| Bonus | No | Yes |
| Pricing | from $10.99 | from $9.99 |
| English | Yes | Yes |
| Free Cams | Yes | Yes |
| Private Shows | Yes | Yes |
| Cam2Cam | Yes | Yes |
| Interactive Toys | Yes | Yes |
| Mobile Cams | No | Yes |
| VR | No | Yes |
If you're into cam sites, you're already aware of Chaturbate. And not only is the name catchy, but the website has earned a legit reputation over the years. Chaturbate launched in 2011, and it's one of the most visited websites in the world.
Chaturbate welcomes you on the homepage with hundreds of models performing. Also, you get a sneak preview or teaser of what each cam show can offer you via the thumbnails. And the platform is easy to use by providing Tags to simplify your search process. As a result, it makes finding broadcasters you desire effortless. 
When it comes to thumbnails, it may seem that all models are doing solo shows. However, if you dig deep, you'll uncover a treasure trove of couples, threesomes, and live performances. Furthermore, you can filter through categories using tags to access specific live feeds. 
Stripchat is a live webcam platform with excellent features and perks. The site has thousands of cam models that get organized into categories. Although Chaturbate and Stripchat have similarities, the platforms are very different. Stripchat takes the lead in many areas with far superior options for engaging with models such as interactive toys and more.
Both companies provide free live cams and adult chat with attractive performers. However, Stripchat users know they can get more services from models due to outstanding value tokens. In addition, members can use tokens to customize their entertainment fully. For example, you can use them to tip, interact and pay for low-cost private shows. 
In particular, the VR technology on Stripchat stands out, which offers the closest encounters. And all you need is a VR headset or smartphone to make your dreams a reality. Therefore let anyone immerse themselves in a virtual reality cam show with performers. 
Chaturbate vs Stripchat Differences 
Nevertheless, when choosing between Chaturbate vs Stripchat, it helps to go over the pros and cons of both freemium webcam sites. 
Chaturbate and Stripchat both provide stunning performers on their sites. And they offer a selection of girls, guys and couples webcams. Stripchat seems to take the lead in its hosts, ethnic diversity, and overall sexiness. 
And another thing we liked about Stripchat was its search feature. Considering the thousands of performers that greet you on the main page, it's only fair that you have good search filters. As a result, Stripchat outperforms Chaturbate in this area.
However, Chaturbate uses #toys, #new, and #feet tags. Of course, Stripchat also has tags but doesn't have them displayed along the top bar, which helps you navigate quickly to a topic. Therefore, Chaturbate is our top pick in searching by interest targeting.
Both Chaturbate and Stripchat have performers that offer private shows. And these let you take someone online into a cam show where you take control. Although private shows get charged per minute, both platforms are considered an excellent value. And here, we compare Chaturbate vs Stripchat private shows against one another. 
First, Stripchat private shows are entirely different from the ones on Chaturbate. The models give you their full attention and ensure you are satisfied with your time. And because each performer has a rating, you can guarantee the shows are consistently high quality. 
Chaturbate is one of the largest platforms, making getting a private show difficult. The popular models on the site are in high demand and have hundreds of viewers in their chat rooms. As a result, sometimes models will deny entry, turning you off. 
Both providers have different packages for purchasing tokens to use on their platforms. And you can compare the pricing and quantity of tokens you get for a certain amount below.
| Chaturbate | Stripchat |
| --- | --- |
| 100 tokens $10.99 | 90 tokens $9.99 |
| 200 tokens $20.99 | 200 tokens $19.99 |
| 500 tokens $44.99 | 520 tokens $49.99 |
| 1000 tokens $79.99 | 1080 tokens $99.99 |
The table compares the prices of Chaturbate vs Stripchat to show you which is more affordable. However, both sites give significant discounts on the more tokens you buy in one transaction. Consequently, reducing the average cost per token, you spend each time on the platform.
Stripchat is cheaper on smaller amounts of tokens, with the starting package being $9.99/ 90 tokens. 
Both Chaturbate and Stripchat payment methods are secure for purchasing tokens. You can pay for them using many options for international and local payments. And each site accepts payments via card, PayPal, and more alternative methods. As a result, you can pay for your activities using a well-known company you trust.
Chaturbate makes purchasing tokens simple, and you can view your balance on the main page. To get more tokens, click on the tab, which will present you with the window to select a package. And then you'll get shown the payment options we suggest using Epoch.
Stripchat is a newer platform so expect the latest payment options at your fingertips. You can pay for tokens using preferable methods. For instance, you can pay instantly using your card or e-wallet systems.
The platforms Chaturbate and Stripchat both use discreet billing, meaning no details of your activities appear on your bank statement. Therefore you will see EPOCH.com or Segpay billed, two well-known payment companies.
Furthermore, you can use cryptocurrencies for more anonymous payment options for even more privacy.
Chaturbate vs Stripchat – which one wins?
Chaturbate vs Stripchat, so you probably wonder which is the better service. And based on our findings, Stripchat is a clear winner. Both platforms are well-known for watching webcams. However, if you are into new features, interactive functions, and private shows, Stripchat is the better option.
Chaturbate and Stripchat are trustworthy webcam sites. Both platforms can provide excellent live cams, camera quality, and superior customer support. But best of all, you can create a free account on each platform to test them for yourself. 
Overall, Stripchat is a better service for live entertainment. The beneficial discounts on tokens and promotions make it our top pick. Although both provide incredible value, if you want all the bells and whistles and the model's full attention, it's Stripchat.